CURRENT REALITY
It's April. My youngest son left to explore Europe. My oldest son winds his way toward home for work, doctors' appointments, and visa renewal. Forrest and I passed the first round of applications to adopt a doodle dog. The house is up for sale. I'm interviewing for congregational ministry, wondering and worrying about finances, marketing the book, writing an article, and working on a second book. Oh! And it's Easter. Still. For the next 40 plus days.
Yet I breathe in all the goodness this whirlwind of words embraces. Because without all the healing work we as a family did and continue to do the list of our lives would read very differently. This possible reality, of what could have been, always lives in my heart and mind. Not as pain but as truth laced with gratitude. Thankful I pushed us to do the work, the healing work, as an act of love. Healing giving us balm and leading us to live fully in love, purpose, and joy each hour of each night and day now and in all the days to come.
May you find a way to "do the work" as well.
~Jennifer
HAPPENINGS
In-Person
Tuesday, April 26, 2022 at 7:00 pm: In-person book talk at Gloria Dei Lutheran Church in Iowa City, Iowa. Prairie Lights Bookstore will be there selling my book at the event. You may attend virtually or watch at a later date at Gloria Dei Live.
Saturday, June 4th at 5:30 pm: Preaching at St. Mark Lutheran Church in Davenport, Iowa.
Sunday, June 5th at 9:30 am: Preaching at St. Mark Lutheran Church in Davenport, Iowa.
July 14-17: Wild Goose Festival in Union Grove, North Carolina. Stay tuned for more information.
Podcasts
Tues. May 3 – Ep. 52: Grief + Healing Author Jennifer Ohman-Rodriguez on Untrained Wisdom.
Thursday, June 16th, 2022 at 2:00 pm: Faith+Lead Book Hub event.
Articles
"Where Faith and Trauma Recovery Meet," at Bearings Online.
"Small, simple self-care" in the January/February 2020 edition of Gather Magazine.
In the News
Coming up! Ethical Perspectives on the News sponsored by the Inter-Religious Council of Linn County.
Gazette interview with Rob Cline.
Read why Chalice Press decided to publish A Time to Mourn & A Time to Dance.
November 4, 2021: A Time to Mourn & A Time to Dance is in the Southeastern Iowa Synod of the ELCA eNews.
Interviews
Q & A with Chalice Press President, Brad Lyons.
Book launch interview with Brian Allain of Writing for Your Life and Compassionate Christianity.
This is Life and the Living of It: Steven D. Lee and I talk about faith and trauma recovery.
If your organization, church, podcast, conference, library, or literary festival is interested in inviting me to speak, preach, or lead a workshop, please click here: Invite Jennifer to Speak.
BONUS SECTION
Each month I share part of my process of writing A Time to Dance & A Time to Mourn. This month's offering is a blog post from May 4, 2018 that did not find a home in my memoir.
Easter Understanding
Sitting in a church pew Easter Sunday. Seats at a premium this morning. Finding space third row from the Baptismal font. On the right almost under the organ pipes.
Swarms surround us. Decked out in Spring's cold glory. Small limbs buzzing from early morning chocolate bunnies. Syrupy smells poured over church-basement pancakes wafting up sanctuary stairwell. Scents floating off potted lilies celebrating this day, distracting our noses.
Me, quietly book-ended by sons. Lanky height towering over shrinking self. Our hearts cradling family variants. Arriving on time for once. Not participating in today's service. Missing one person in body, spirit, love. Forced imbalances creating new holiday traditions. Because of loss. Because of illness. Because human essence demands continual, dynamic change. Life ever flowing somewhere. Living in all directions. Forward, one of many routes. Options include straight back, down, and up above. Existence also following verticals and sub-verticals like feeds and streams.
During Lent this year understanding the movement of Lot's wife. Looking back froze her future. Into crumbling salt. Comprehending this can happen to us. So far doesn't. Ongoing therapy eradicates salt. Revisiting the past orients us into living. Discovering alternatives. Lot's wife perhaps wanting choice too. Beginning with resisting orders. Ones requiring forced obligation in ancient womanhood. A constricted soul experiencing momentary freedom. Salt worth its weight. Me, not so interested in salt. Embracing all directions.
WHAT I'M READING
My latest? Homecoming by Thema Bryant, PhD. Also check out her podcast by the same name.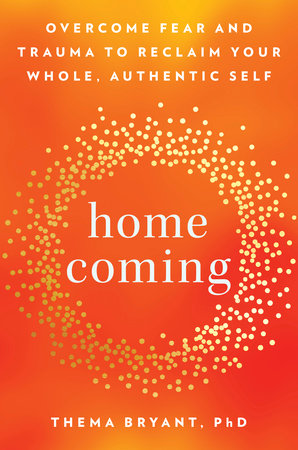 THE VALUE OF REVIEWS
Whether we like it or not, there is a business side to writing. Every author relies on readers to write online reviews. Please, please, please consider reviewing my book on Goodreads and at my Amazon author's page. You have my gratitude!
BUY MY BOOK
Put A Time to Mourn & a Time to Dance on your bookshelf! My book is currently available (on sale!) at Chalice Press. Or support your local, independent bookstore.
April Newsletter, 2022: All rights reserved by the author.